"A hat full of sky", de Terry Pratchett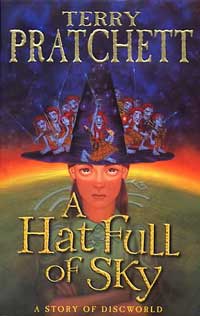 Terry Pratchett es dios, no hace falta seguir insistiendo en ello a estas alturas. Su última novela publicada, A hat full of sky, es el tercer libro juvenil que escribe ambientado en el Mundodisco y el segundo que tiene como protagonista a Tiffany Aching. Han transcurrido dos años desde el final de The wee free men y llega la hora de que Tiffany -supongo que ya nadie me echará kames por revelar que el protagonista de una novela del Maestro sobrevive a la narración-, de que Tiffany salga de casa y comience a dominar su talento para la brujería. Se ha decidido (es decir, Yaya Ceravieja ha decidido) que su instructora sea Miss Level, una bruja con dos puntos de vista sobre cualquier situación. Pero hay un par de factores que pueden complicarle la vida a la protagonista: (1) una consciencia incorpórea, un "panalero" que busca un cuerpo poderoso y fácil de conseguir, y (2) un clan de guerreros diminutos, pelirrojos y tatuados de azul, que fueron expulsados del País de las Hadas por andar borrachos a las dos del mediodía. Los Nac Mac Feegle. Que un clan de mini-ladrones pendencieros sea tu aliado no significa que no pueda complicarte la vida.
Habiendo leído ya dos títulos de la sub-serie de Tiffany Aching (y Pratchett anuncia que habrá un tercero como mínimo) no puedo evitar pensar que en parte el Hombre del Sombrero está dando la réplica a la serie de Harry Potter, y eso que no he hojeado ni un solo volumen del niño mago y mi conocimiento se reduce a parte de la primera película. Lo importante no es la varita mágica ni la escoba voladora, dice Terry. Lo importante eres tú. La magia no consiste en lanzar lucecitas de colores; la mayor parte de las veces, el simple hecho de saber más que los que te rodean, de pensar fríamente las cosas o de intuir el funcionamiento de la mente humana es lo más mágico que existe. Ayudar a la gente, trabajar duro y decirle a la tierra lo que es queda por delante de las competiciones; por delante del Qidditch, si me apuran. El mayor poder consiste precisamente en saber cuándo no hay que ejercerlo, y más de un politicucho en activo haría bien en aplicarse el cuento. Aunque claro, uno que tengo en mente tendría que aprender a leer primero.
Se da por hecho que el libro está escrito con toda la pericia de costumbre (sólo una anotación: las concesiones de Terry para las novelas juveniles empiezan y acaban con la división en capítulos, la duración menor, la nota del autor al final de la novela para explicar algunas correspondencias con nuestro mundo y algunos dibujitos de Paul Kidby entremezclados con el texto), así que nos queda hablar de la presentación. Las novelas juveniles de Pratchett, al menos en su edición en tapa dura, son una preciosidad. El dibujo de portada, el tipo de letra utilizado en las solapas (y en los extractos del libro sobre Hadas y cómo evitarlas de Miss Tick), las pequeñas ilustraciones a color que acompañan los textos, las diminutas sombras de Feegles junto al número de página, incluso la foto del autor con un bastón de calavera por puño. Impecable. Si las novelas adultas tuvieran los detalles tan cuidados, creo que no tendría ni una sola edición de bolsillo en la estantería.
Y termino con una cita, al estilo del Veti: "Había conseguido dominar las dos primeras reglas de la escritura, tal como él las entendía. (1) Robar papel. (2) Robar un lápiz."
Enviado por Manu, 11 de Mayo 2004 a las 08:17 PM