The Screaming Pigs
En el instituto, creo que ya he comentado algo, tenía un grupete de música. En realidad, más que un grupo, The Last Tribute éramos Lucho (voz y bongos) y un servidor (piano y coros), aunque en algún conciertillo que dimos en fiestas de pueblo llegamos a tener batería, bajo, dos guitarras eléctricas y un repertorio de casi una hora, perfecto para tocar con más grupillos. Teníamos alguna que otra canción propia, pero también nos dedicábamos a hacer versiones con nuestras propias letras, desde Perfidia hasta los Toreros Muertos:
Me gusta jugar con mi amigo el Monolito
Me gusta jugar con Hastur el Innombrable
Me gusta jugar con mi amigo Nodens
Me gusta jugar con la Semilla Estelar
Ensayábamos en mi casa (para tremenda alegría de mi madre) y decidimos grabar una maqueta con los medios a nuestra disposición, que consistían en un piano desafinado, una grabadora magnética y un bongo. Y toda la gente que consiguiéramos engañar para que tocara con nosotros. Por suerte, en nuestra misma clase unas amigas también habían formado su propio grupo musical y ensayaban en los locales del instituto: eran The Screaming Pigs, las cerdas chillonas. Su guitarrista nos hizo algunos solos y de alguna manera conseguimos convencer al resto para que grabaran unos orgasmos -fingidos- de acompañamiento a una canción que habíamos hecho para reírnos del bakalao a base de golpes de bongo y puñetazos en mi mesa del comedor. Coló. La grabación de aquel tema fue más épica aun que las demás, con mi hermana entrando en casa y pensando que yo había organizado una orgía, Lucho y yo rapeando y dando hostias a cosas y tres chicas gimiendo como si no hubiera mañana.
Solamente tenemos localizada una copia de aquella cinta de cassette (Noches de blanca sartén, llamamos al "disco") y será digitalizada en breve. El Mito del Café-Bar, El Machote, El Frankenstein Mexicano, todo temazos, nena. En todo caso, ahora que el cantante de mi grupo ha vuelto a casa convertido en técnico de sonido nos vamos a dedicar a grabar las canciones por pistas y con buen equipo, en parte por gusto y en parte para ganarle una cena de siete mil el cubierto a un amigo cuya carencia de fe nos resulta molesta. Planeándolo la otra noche, medio en broma, quedamos en localizar a las Cerdas Chillonas para grabar en condiciones nuestra canción de bakalao rancio. Por suerte, aunque nunca llegáramos a hacernos la camiseta que teníamos planeada en el instituto (y eso que dicen que los músicos ligan), seguimos siendo amigos. Y hoy mismo, hablando por teléfono con Anita, me ha dicho que grabaría su pista en septiembre a mucho tardar, cuando pasara unos días en Castellón.
Por supuesto, había que informar del éxito al otro 50% del malvado proyecto, así que tan pronto como ha terminado la anterior conversación no le he dado al play para seguir viendo Dog Soldiers, sino que he escrito el siguiente mensaje: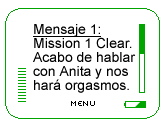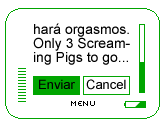 ¿A que nadie adivina a quién se lo he enviado por error?

Enviado por Manu, 27 de Julio 2004 a las 05:36 PM