Welcome to the Power Stone world
Tener una Dreamcast en casa puede ser pernicioso a veces, sobre todo con juegos como este: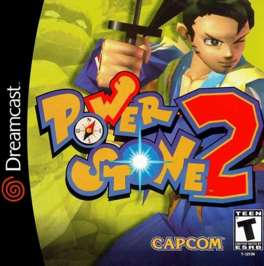 Doce luchadores. Cinco escenarios en 3D enormes, de los que se puede utilizar absolutamente todo como arma (los ataúdes son geniales). Y desde que el avatar del Caos y la Destrucción conocido en este plano de la existencia como Dani compró otros dos mandos, cuatro jugadores. Decenas de armas esparcidas por los escenarios, cada cual más maligna que la anterior.
Pero claro: como dijo Josefina, todo se acaba quedando corto con el tiempo. Así que nos hemos lanzado a crear nuevas armas combinando las anteriores, cosa nada fácil teniendo en cuenta que utilizamos una copia de seguridad en japonés. Y ya con nuevas armas, descubrimos que hay dos personajes ocultos y, lo más importante de todo, tres escenarios nuevos para Destrozar A Tus Amigos (TM). Para desbloquearlos, tan solo hay terminar el modo arcade con todos los personajes. Genial. Pero aquí es donde viene el problema: los títulos del menú principal están en japonés, así que ¿cuál es el modo arcade? Como yo soy el buscador oficial por internet, tenía el poder de decidir (casi a dedo) cuál era el modo arcade. El Doctor Maligno, el Avatar del Caos y la Destrucción y un servidor de ustedes completamos en unos días lo que nosotros pensábamos que era el modo arcade, pero ¡sorpresa!, no desbloqueamos ningún personaje nuevo. En mi descargo diré que el modo de juego que elegimos era el que más papeletas tenía.
Acabo de hacer una pequeña búsqueda en internet y parece ser que la opción deseada es la segunda que aparece en el menú. Pero no me gustaría repetir la jugada y seguir sin obtener nada a cambio. Así que si alguno de vosotros ha pasado por la misma experiencia o similar con este videojuego, agradecería cualquier tipo de indicación al respecto.
Circulen, aquí no ha pasado nada.

Enviado por Manu, 27 de Mayo 2005 a las 04:35 PM