Get SOME things done
Quienes me hayan visto últimamente –o, mejor dicho, quienes no me hayan visto últimamente– sabrán que el mes de noviembre apenas me separé de delante del portátil. Tener tanto trabajo encima ha sido la causa parcial de que vuelva a escribir por aquí, y también de que haya tenido que comerme algunas frases que solté meses atrás sobre la traducción, el autoempleo y el tiempo libre. Sigo pensando que me compensa muchísimo no tener un horario marcado y que, aunque haya meses horribles, los estupendos son más estupendos que horribles los horribles.
Pero es durante los horribles cuando uno se plantea si tal vez no habría una manera mejor de hacer las cosas. Si puede que exista alguna receta mística que evite, precisamente, pasar meses como el presente. Si no será que me busco yo solo las penas por perro y dejado. Porque toca admitir que cuando hay que echarle horas se las echo, pero jamás he sido un tipo demasiado disciplinado, por decirlo suavemente. Y otra cosa no habrá en internet, pero porno y blogs sobre productividad los hay a patadas.
Get things done es una especie de filosofía vital sobre la gestión del tiempo que se ha ido poniendo de moda entre profesionales, autónomos y otra gente de mal vivir. Promulga, en pocas palabras, lo que su propio nombre indica: si hacemos las cosas en su momento, no tendremos que hacerlas más adelante. Si no tenemos la cabeza llena de proyectos sin terminar zumbando por ahí, disfrutaremos más el tiempo de ocio y, ya que estamos, haremos hueco para otros proyectos nuevos. Esta entrada del blog de David Santo (no, este Santo no, su hermano) fue la primera que leí sobre el asunto y la que mejor explica los principios y la implementación básica del método.
Pero, por muchas bondades que se le atribuyan al Get things done, de verdad que no me veo utilizando una carpeta para cada día del mes y repartiendo tareas en ellas desde una bandeja de entrada general. Ni abriendo cada día la carpeta correspondiente y acometiendo las tareas que contiene, sobre todo porque muchas de ellas serían trocitos de papel donde se leerían mensajes sublimes como "compra maquinillas", encargos como "organiza la fiesta de Bego del viernes" u obviedades como "traduce ya y deja de escribir tontadas". Por alguna razón astrológica, los meses en los que más trabajo oficial tengo son también los meses en que más asuntos varios quiero atender, y mi sistema de prioridades es más intuitivo de lo que, según el método de marras, debería ser. Pero me gusta así, con lo que posiblemente los papeles terminarían pasando por diversas carpetas diarias a medida que voy posponiendo las tareas porque veo que existen otras más urgentes, como por ejemplo probar el Guitar Hero 4. A la larga, papeles, carpetas y bandeja de entrada terminarían convertidos en una buena hoguera en el salón, que hace un frío del carajo y con los dedos congelados no se atinan bien los solos con la guitarra de plástico.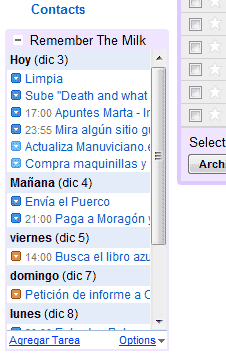 Pero sí me he quedado con algo. Que la forma de trabajar no cuadre conmigo no quita que la filosofía de fondo pueda llevar algo de razón. Es bueno tener escritos en alguna parte los asuntos pendientes para que no den por saco en la mente y, al menos en mi caso, para que la gente no me ponga la cara demasiado roja por descuidado. Ya me ocupé en su momento de que todo el mundo sepa que debe recordarme varias veces las cosas para que las haga, pero eso no soluciona el problema: mis tareas residen entonces en otro cerebro humano, que obviamente no está diseñado como un disco duro ni como un despertador. Y las culpas por no cumplir residen en el mío, que tiene mejores cosas que hacer como alimentar su propio caos. El Get things done mantiene que uno de los pilares del ocio es saber a ciencia cierta que no se tiene nada que hacer; yo diría que en realidad es parte de la felicidad general en la vida. Pero también lo es dedicar el mínimo tiempo posible a la organización.
He probado varias soluciones, pero tiendo a perder los papeles y a dejarme por ahí los cuadernos. Tener un documento de texto en el portátil es una solución demasiado poco portátil y los calendarios en línea me resultan demasiado incómodos y estrictos. La semana pasada vi por fin la luz en la web de Remember the Milk. Personalizable hasta el extremo, útil, sin chorradas y, sobre todo, cómoda y fácil de sincronizar. Y lo más importante de todo: no agobia a menos que se lo pidas explícitamente. Remember the Milk vive desde la semana pasada una existencia doble en la barra lateral del portátil y como gadget en la cuenta de GMail por si no llevo el cacharro encima, y se nota. Vaya si se nota. Al final no quita de hacer las cosas, claro. No quita de darle al botón de "Posponer" de vez en cuando. No es ninguna panacea que logre convertirte en un super saiyajin de la productividad, ni ganas que tengo de serlo. Pero sí es una manera bastante óptima de quitarle trabajo y agobios al cerebro y, aunque yo siga sin tener las cosas hechas, sí me ayuda a tener algunas cosas hechas. Por ejemplo, a que saque dinero a propósito antes de aparecer por las tascas este jueves y Moragorh pueda cobrar las botellas de pacharán que me trajo del lejano norte, porque de lo contrario se me iba a vaciar el bolsillo entero en cervezas como que me llamo Manu. Aunque esta última tarea no me la haya apuntado en ningún sitio.

Enviado por Manu, 3 de Diciembre 2008 a las 02:49 AM